Minimally Invasive Therapy Relieves Pain of Cancer Treatment*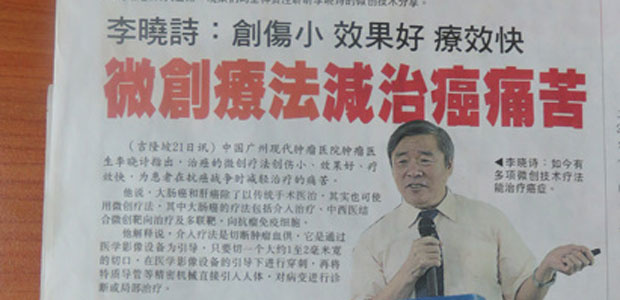 On June 21st, Sin Chew Daily published a special report named "Minimally Invasive Therapy relieves pain of cancer treatment", which introduced the minimally invasive interventional therapy in detail, pointed out that minimally invasive therapy has the characteristics of minimal trauma, good effect, quick curative effect, could effectively relieve patients' pain.
Li Xiaoshi, oncologist from Modern Cancer Hospital Guangzhou, considered that minimally invasive therapy could effectively treat intestinal cancer and liver cancer. Minimally invasive treatments of intestinal cancer include interventional therapy, combination of traditional Chinese medicine and western medicine, minimally invasive targeted therapy and multidisciplinary targeted therapy, anticancer natural therapy and so on.
Li Xiaoshi explained that interventional therapy is a mini-invasive therapy performed under the guidance of medical imaging equipments. With a 1-2 millimeter incision, paracentesis could be performed with the lead of medical imaging equipment. Then a special tube, catheter or other sophisticated apparatus are introduced into human body to diagnose and treat the lesion, so as to cut off the cancer's blood supply.
On the latest international minimally invasive therapy sharing meeting of liver cancer and intestinal cancer—"Talk with Cancer Patients—Cancer Never Despair", Li Xiaoshi Pointed out that once has bloody stool, one needs to go to the hospital for check as soon as possible. The accuracy rate of Carcino-Embryonic Antigen (CEA) is above 80%. Meanwhile, Li reminded that once intestinal polyps were found, they should be removed timely to decrease the morbidity of cancer.
Li Xiaoshi indicated that although liver cancer was once regarded as an "incurable disease", modern advanced minimally invasive therapies could treat it effectively, such as radioactive particle and chemical particle combined implantation, cryotherapy as well as interventional therapy, etc.
Li Xiaoshi said, the continuous development of minimally invasive therapy and imaging equipments, like PET-CT, not only provides more accurate orientation and quantitative to the treatment, but also provides a guarantee to timely monitoring and therapeutic effect evaluation.
He also explained that cryosurgery therapy destroys cancer by the circle treatment of cold- to- hot, with the advantage of not causing harm to other normal issues. The temperature of frozen tumor tissue can reach 120℃ below zero in a dozen of seconds when the argon gas is quickly released trough needle point, then the temperature rises to 40℃ when Helium is released through needle point.
Xu Haitao, chief doctor of Modern Cancer Hospital Guangzhou in Kuala Lumpur, also showed up to offer free consultation. This sharing meeting was hosted by Boai Enterprise (China) Group (Consulting Center of Kuala Lumpur), co-sponsored by Metrosinchew Community Newspaper and Cancer Charity Foundation of China Boai Group. It was held in the sixth-floor meeting room of Wisma Mca, which has attracted about 200 people to the spot.