Interventional Therapy-An Ideal Option for Advanced Lymphoma Patient*
MICHAEL SANJAYA IRAWAN, 22 years old, comes from Surabaya, Indonesia. In 2018, he was diagnosed with stage IV lymphoma. He refused to take chemotherapy or radiation in local hospital and resorted to St. Stamford Modern Cancer Hospital Guangzhou. With 4 sessions of interventional therapy, 90% of his tumors have disappeared and tumor metabolism was completely in remission with improved condition.
Chemotherapy and radiation are not the only options for cancer patient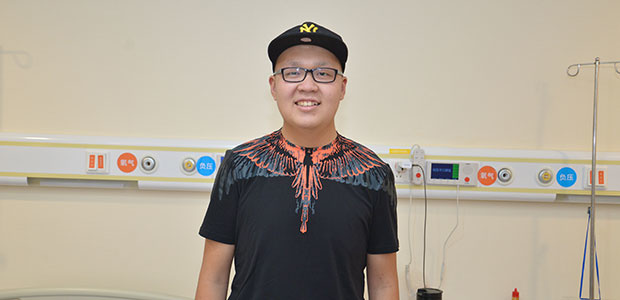 MICHAEL SANJAYA IRAWAN
We first met MICHAEL, a young lad full of energy to our eyes. Tortured by cancer, yet he kept smiling all the time. The 22-year-old man who was in the best years of his life told us about his anticancer journey.
In August, 2018, MICHAEL suffered cough with pain in thoracic vertebrae. He just took medicine for it. In Dec., the cough got severer with pain in cervical vertebrae. He realized there's something wrong. So he went to the hospital and consulted orthopedist, CT scans detected multiple tumors in his lung, the doctor made an initial assumption that he has lung cancer and suggested taking biopsy to confirm the diagnosis. Then chemotherapy or radiation should be taken for the treatment. MICHAEL had a hesitation, concerning if the deterioration after the biopsy could be covered by surgery, chemotherapy or radiation. Consequently, he refused to take these therapies.
MICHAEL decided to seek for better treatment. By chance, a family member introduced St. Stamford Modern Cancer Hospital Guangzhou and he searched about it online. Learned about minimally invasive therapy for cancer, he immediately contacted the satellite office in Indonesia and made an appointment. In the office, he made a remote consultation with cancer experts, who analyzed his case and offered suggestions on the treatment. After the consultation, he departed for Guangzhou without a second thought.
Interventional therapy brings hope for advanced lymphoma patient
In Dec. 2018, MICHAEL came to St. Stamford Modern Cancer Hospital Guangzhou. A biopsy result indicated stage IV lymphoma. Unfortunately, cancer has spread to armpit and lungs. Besides, Suffered from cough and bone pain, he was also deprived of sleep and appetite. In St. Stamford Modern Cancer Hospital Guangzhou, the Multidisciplinary Team (MDT) measured a treatment plan of interventional therapy.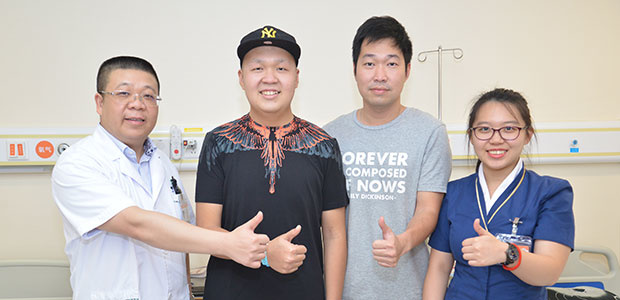 MICHAEL with medical staff
Being asked about the treatment procedure, MICHAEL said: "During the first session of interventional therapy, although the doctor introduced the procedure, I was a little nervous as it was my first time taking the treatment." It was a good thing that several tumors in his armpit disappeared after the first session. With the whole procedure, his condition was gradually improved without suffering severe side effects as that of chemotherapy and radiation. Tumors in his neck and metastases in lungs and other organ were also shrinking.
According to his in charge doctor Wang Zenghai, "With three courses of interventional therapy, the cough has disappeared and pain in thoracic vertebrae and cervical vertebrae were also greatly relieved. After the forth session, the cough has gone, as well as the 90% of his tumors. The tumor metabolism was completely in remission with improved condition"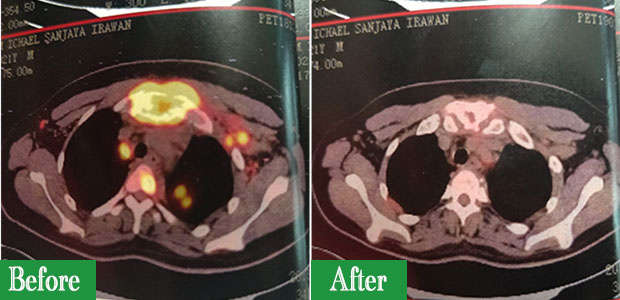 CT contrast of sternal tumor before and after treatment
Interventional therapy, an advanced version of systemic chemotherapy, performs perfusion and embolism by injecting high concentration anticancer drugs through feeding artery directly into the lesion. The whole procedure effectively and thoroughly kills the tumor. Interventional therapy offers an ideal option for cancer patients in middle or advanced stage, who is unable to or unwilling to receive open surgery or traditional cancer therapies such as chemotherapy and radiotherapy. It protects the normal tissues and at the same time kills cancer cells.
Gratitude to the hospital, encouragement for other cancer patients
Upon the discharge, MICHAEL expressed his gratitude to the medical staff, "Thank you, doctors, nurses and also interpreters in St. Stamford Modern Cancer Hospital Guangzhou. I hope the cutting-edge cancer therapies benefit more cancer patients." Meanwhile, he encouraged other cancer patients with words, "Don't give up while battling cancer. Keep an optimistic mind. Doctor will help us, God bless us all."