Thanks to minimally invasive comprehensive treatments, I am able to return to school*
Muhammad Fakhri is a student in Indonesia. In his 20's, Fakhri has a nice anticipation to the future, however, an unexpected disease attacked him and dragged him and his families into the deep dark abyss. At the end of year 2017, Fakhri was diagnosed as Hodgkin lymphoma. Fakhri came to St. Stamford Modern Cancer Hospital Guangzhou and after one month treatment here, his chest tightness and physical discomforts disappeared. CT scan showed that tumor was greatly shank and he was gradually back to normal.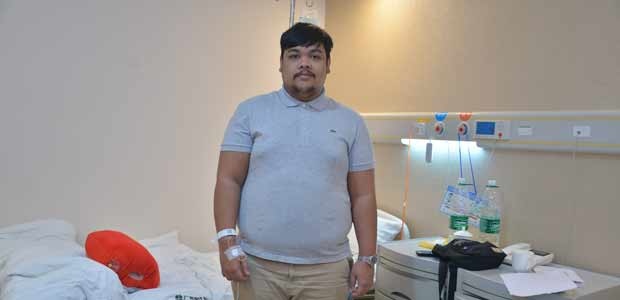 Muhammad Fakhri
St. Stamford Modern Cancer Hospital Guangzhou equipped with advanced and effective minimally invasive technology
In October 2017, Fakhri felt a sense of suppression in the chest for no reason, he went to the local hospital in Indonesia and CT scan showed that there were two tumors in his lung. The tumor was 5 cm and 2 cm respectively and was confirmed as mediastinal tumors. Fakhri and his families were shocked at hearing the bad news, but they were not scared, since in early 2014, Fakhri's aunt was diagnosed as nasopharyngeal cancer stage IV and she is now in good remission and there are no sign of any cancer recurrence after her two sessions of minimally invasive treatments in St. Stamford Modern Cancer Hospital Guangzhou. "Compared with local hospitals in Indonesia, St. Stamford Modern Cancer Hospital Guangzhou is more advanced, scientific and effective in terms of biopsy, treatment and environment etc.." aunt's words gave Fakhri much confidence in overseas treatment.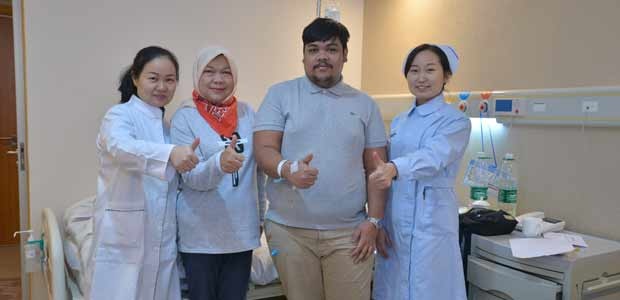 Fakhri and medical staff in St. Stamford Modern Cancer Hospital Guangzhou
With interventional therapy and particle implantation, no more fear for Hodgkin lymphoma
On Nov. 30, 2017, Fakhri and his mother flew to Guangzhou, and they were well picked up by the waiting car of the hospital and arrived at hospital safely.
The Multidisciplinary Team (MDT) arranged body check-up for Fakhri after his admission, and he was confirmed as Hodgkin lymphoma. After consultation, doctors tailored him a treatment plan of interventional therapy and particle implantation. "Before my journey, my aunt already introduced and explained minimally invasive technology for me and my attending doctor, Dr. Hu Ying explained to me the process of interventional therapy, so I have no fear or worry for the treatment. said Fakhri.
"Anti-cancer drugs were injected from the thigh, except for a bit of heat, I felt nothing else. After the treatment, I felt a little nausea and there was no other side effects, but my chest was not so suppressing any more, I feel a lot easier." A week later, Fakhri had particle implantation, after which he felt his health back. When he went out for sightseeing, no one ever discovered that he was a cancer patient, who just fought against Hodgkin lymphoma.
Before his discharge, Fakhri learned from his attending physician that CT showed that the tumors have significantly shrank and his condition was effectively controlled. All he has to do is to come back for regular review. In response, Fakhri expressed his deep appreciation to his attending physician and medical staff in the hospital.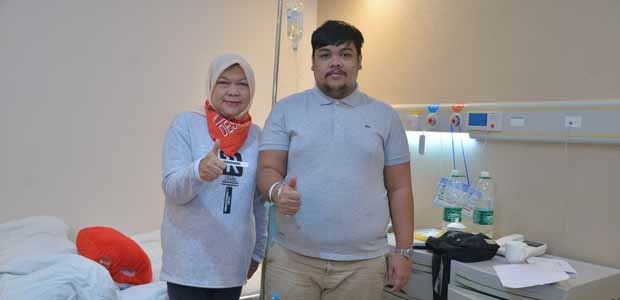 Fakhri and his mother
Farewell to cancer, embrace life
As for the future life, Fakhri said hopefully, "I will return to school to continue studying, only in this way can I live up to the expectation and care of those who took good care of me during the hospitalization! "