Remote Comsultation on Cancer Treatment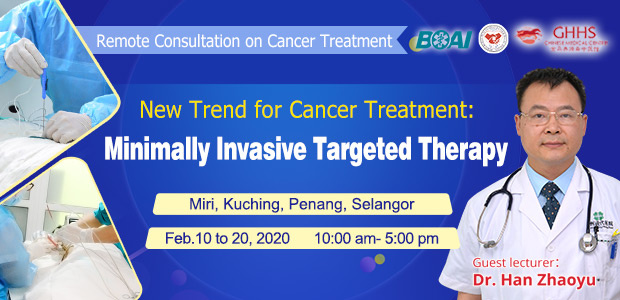 Theme: New Trend for Cancer Treatment: Minimally Invasive Targeted Therapy
Date and Time: Feb. 10 to 20, 2020 10:00 am--5:00 pm
Guest Lecturer: Dr. Han Zhaoyu, oncologist from St. Stamford Modern Cancer Hospital Guangzhou
Cities and Areas: Miri, Kuching, Penang and Selangor
Target Audience: Cancer Patients and their families
Reservation: Fill out the reservation form or call at 010 8988919
On Feb. 10 to 20, 2020, Remote Consultation on Cancer Treatment, themed on New Trend for Cancer Treatment: Minimally Invasive Targeted Therapy is accessible in 4 cities of Malaysia, including Miri, Kuching, Penang and Selangor, aiming at providing professional cancer treatment advise for local cancer patient, to help cancer patients get timely and effective treatment and avoid delaying treatment.
In this remote consultation, we have invited Dr. Han Zhaoyu, an oncologist from St. Stamford Modern Cancer Hospital Guangzhou, to provide medical assessment and personalized treatment advise for cancer patients and their families online.
Patients and their families who need to consult for a second opinion, please prepare medical reports such as PET, CT Scan, MRI, etc.
For reservation, please fill out the reservation form below or call us at 010 8988919, our staff will help you with the reservation.
Introduction to the Lecturer
Dr. Han Zhaoyu
Dr. Han Zhaoyu has been engaged in the clinical work of oncology for more than 20 years. He has a solid medical foundation and clinical theory knowledge and is skilled in applying it to clinical practice. He has been committed to the study in combination of TCM and western medicine for cancer treatments over the years. Superb medical skills and noble medical ethics have won him praise and respect among his patients and peers.
Dr. Han is skilled in the comprehensive treatment of lung cancer, liver cancer, colorectal cancer, esophageal cancer and other solid tumors with combination of TCM and Western medicine. He is specialized in alleviating cancer pain and has developed fibrin gel injection therapy, acupuncture points implantation therapy, autologous fibrin gel drug carrier to reduce nerve block and control refractory cancer pain.