Cancer Warriors Experience Sharing Session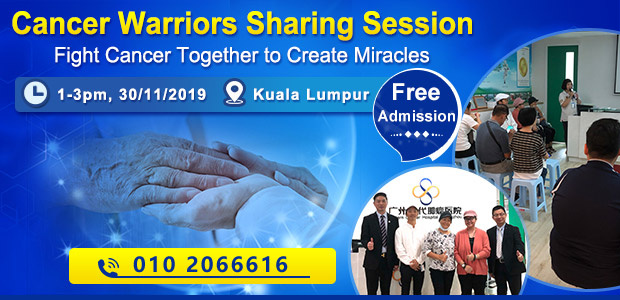 Cancer Warriors Experience Sharing Session
Fight Cancer Together to Create Miracles
Date: November 30, Saturday
Time: 1-3pm
Venue: Level 21-01, Menara Citibank, KL
Guest lecturer: Prof. Hu Xiliu
We take great pleasure in inviting you to our "Cancer Warriors Experience Sharing Session: Fight Cancer Together to Create Miracles" on Nov. 30. We will gather a few survivors to come by tell us their inspiring story. We also welcome patients who are looking for treatment options to participate with us too. We hope you would be able to fit this event in your busy schedule.
Meanwhile, we also invite Professor Hu Xiliu, an expert on combination of TCM and western medicine from St. Stamford Modern Cancer Hospital Guangzhou to give us advice on cancer recurrence prevention and suggestion on diet and mood adjustment. Free consultation is available after the sharing part, If you need to consult Pro.f Hu, please remember to bring medical report such as PET/CT SCAN/MRI with you.
Seats are limited to 20. Please call at 010 2066616 or fill in the reservation form below to make an appointment.