Doctors's Benevolence Benefit the Well-being of All People
——Observation and Exchange Conference on Anti-tumor Minimally Invasive Technologies of Malaysian Doctor Delegation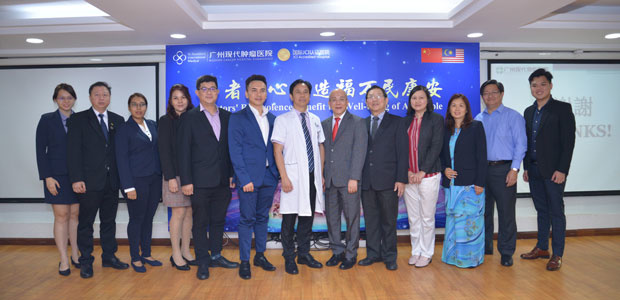 Group photo of Prof. Peng Xiaochi and the Malaysian doctor delegation
"What is the treatment for breast cancer with bone metastasis?"
"For early stage cancer, what is good? the surgery or minimally invasive therapies?
"The cancer recurrence rate of prostate cancer is up to 90%, is there any effective method to prevent its return?
The Malaysian doctor delegation consulted Prof. Peng Xiaochi over anti-cancer minimally invasive technologies on the conference, which got answers from the professor. Prof. Peng Xiaochi explained with the most cutting-edge medical technology and information. Though the length of the lecture has already exceeded expectations, the doctors were still drunk in Professor Peng Xiaochi speech and joined in the heated discussion.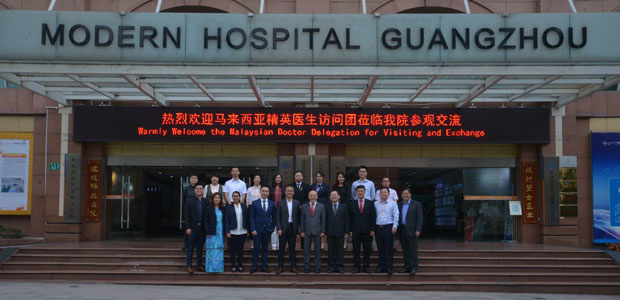 Group photo of the hospital leadership and doctor delegation
On May 16, Malaysian doctor delegation led by Khoo Chang Yau Seong, board representative of Northern Malaysian Medical Development Authority, Lim Fook Loong, president of HAMC Health Solution Center and Lowing Chu, president of Taipei TCM Medical Center paid a visit to St. Stamford Modern Cancer Hospital Guangzhou, aiming to deepen cooperation and communication of China and Malaysian medical and health industries and start jointly mutual discussion on minimally invasive cancer treatment, to make contribution to cancer treatment field.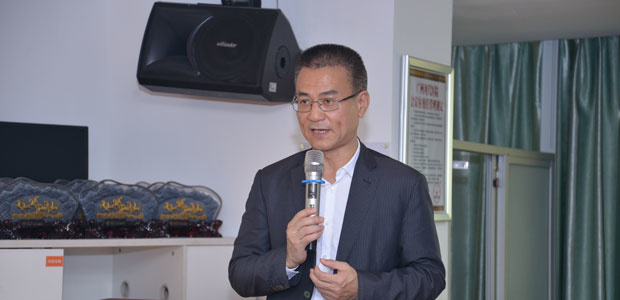 General Manager of the hospital, Mr. Tu Xiaoming extended welcoming speech
General Manager of the hospital, Mr. Tu Xiaoming extended a warming welcome speech and he mentioned that, " As society develops, the number of cancer patients is growing; while the complementary nature of medical technology between the two countries is clear and it is time to strengthen cooperation and exchanges to benefit the health and well-being of the peoples in two countries. I sincerely hope through this communication, we will deepen our friendship and work together to provide high-quality and cutting-edge medical services for more cancer patients and safeguard human health and happiness."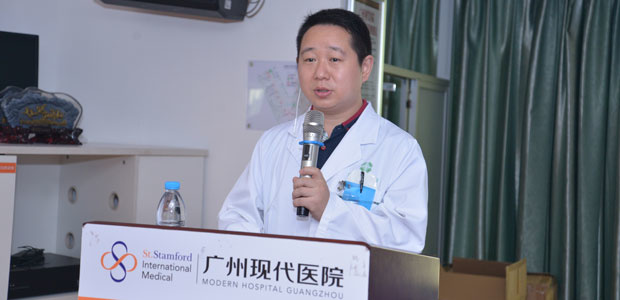 Dr. Zha Huangqi is explaining interventional therapy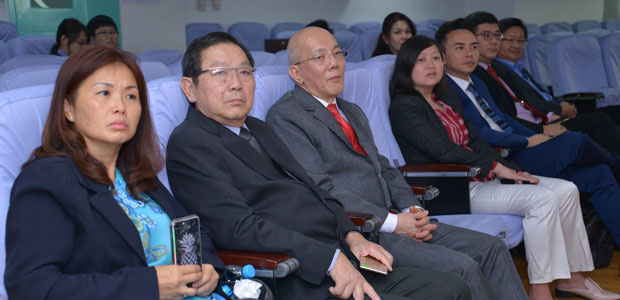 Doctor delegation is watching the operational procedure carefully

In order to better understand minimally invasive targeted therapies, a remote presentation of interventional therapy was arranged for the delegation. Dr. Zha Huangqi was invited to give detailed explanation for the procedure. The delegation put forward questions like "How interventional therapy works in treating colorectal cancer and bladder cancer?" and "which types of anticancer drugs are applied in interventional therapy? " during the on-site consultation and Dr. Zha answered them in details. Later, a symposium around minimally invasive technology followed, Prof. Peng Xiaochi, leading expert of oncology department was invited to present the topic, and he earned a lot of praise and applause on his nice and detailed speech and profession. The delegation thinks highly of superb technology and the spirit of continuous exploration of cancer experts in the hospital.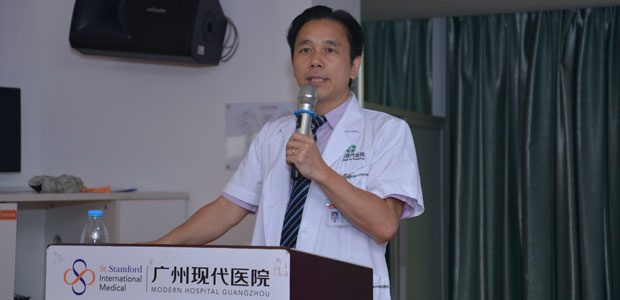 Symposium presented by Prof. Peng Xiaochi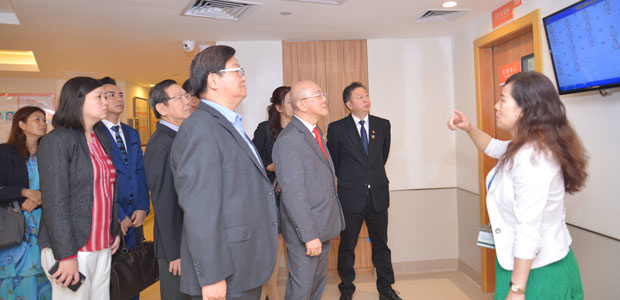 The tour of the hospital led by director of Quality Management Department Ms. He Liangqiong
The delegation visited the ward and extended regards to several Malaysian patients in the hospital. All members of the delegation were impressed by the hospital's facilities, such as the prayer room, Halal canteen, patient room, activity room and hotel-styled ward, etc. The inpatient also introduced: "the ward, equipped with a living room, sofa, TV, refrigerator, juice machine, and separate toilet, is very home-like. There' s also a free bed for the caregiver. We can reach out for help anytime as there' re interpreters and staff on call." A member of the delegation said: "I am so amazed that you offer such considerate value-added services!"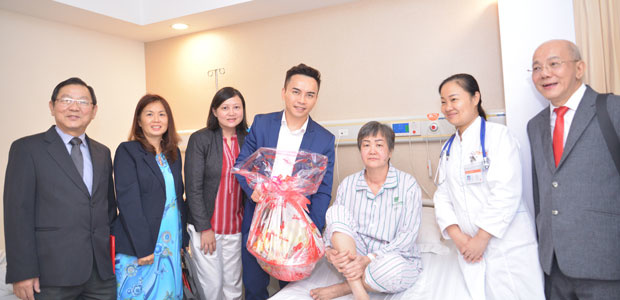 Visiting Malaysian patients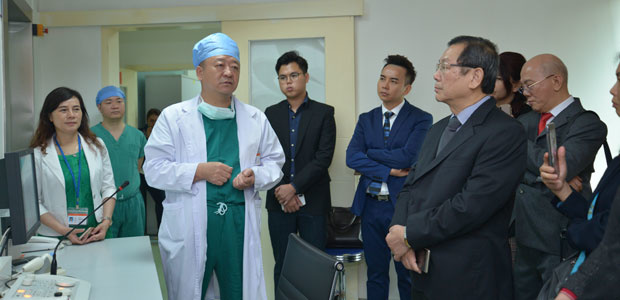 Visiting operation room
Through a comprehensive investigation of the hospital and in-depth exchanges with experts and doctors in the hospital, Lim Fook Loong, president of HAMC Health Solution Center in Malaysia, remarked "China is developing rapidly in the field of minimally invasive treatment of tumors. Malaysian natural therapy and nutritional therapy can provide patients with follow-up treatment. Therefore, China and Malaysia have broad prospects for cooperation in the field of medical and health. We are very pleased and moved to see that Malaysian patients have received such good treatment and care here. I hope that the two sides will exchange and cooperate further to benefit more Malaysian cancer patients. "